If you were expecting a little
'Change in Mood'
from the 80's rock band Kids in the Kitchen - sorry to disappoint.
What you have instead is my three - and lots of mess in the kitchen!
'The Guy Who Lives Here' is having a birthday - and he loves nothing more than the trusty 80's treat, the Wagon Wheel.
So after seeing
this post
by Tas at Little Boozle - I knew we would have to give them a go when the day arrived.
It all started innocently enough - jam and marshmallow on biscuits.
Easy.
Marshmallows in mouths!!
Inevitable.
Smooshy melted mallows - looking at Tas's post I realise they should have been like this in the oven - not with the 'lids' off how we had them, as the marshmallow oozed all over the place!
Manageable.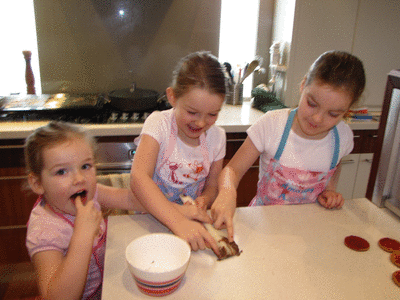 Looking for small spills and spoons to be licked!
Irresistible.
Then came the chocolate dipping...
There was extreme concentration...
Followed by extremely messy hands...
And faces!
And while they may look unappetising here, I can't wait to try them.
Here's the resulting carnage!
I 'smoothed' them over a little with some more of the chocolate to cover any patchy bits created by small fingers.
There's a lot to be said for baking paper - use it liberally for this project and things will be pretty fuss free. Messy but fuss free!
Thanks Tas for sharing - I am sure we will be making these up again one day.
And Happy Birthday to the man we all love the most.
You're one in a million and we're all delighted to have you in our lives. I love you lots honey. xx